SFF-8087 Mini SAS 4i 36P Reverse Right angle to 4 SATA cable with LED power
Category: Mini SAS Publish Time: 2013-03-10 23:17
SFF-8087 Mini SAS 4i 36P Reverse Right angle to 4 SATA cable with LED power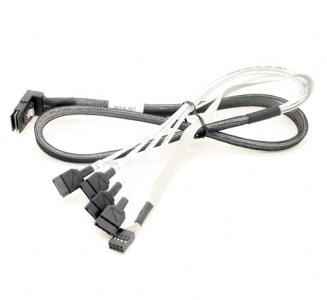 Part Number: WK-0100
* End#1: Mini SAS 36Pin Reversed Right Angled type (UP angled)
* End#2: 4X SATA+LED power
Data Rates: 3.0 Gbps and 6.0 Gbps
Full-duplex with link aggregation (4-wide ports at 24 Gbit/s)
128 device port expanders (>16k total devices)
MiniSAS-to-SATA compatibility
Dual-port HDDs
Multi-initiator point-to-point
Software-transparent with SCSI

Specification:
Cable : 30AWG tin plated copper Twin-pairs shielded conductor.
Differential Impedance: 100 ohms
Connector, Mini SAS 4i 36 pin (SFF-8087), gold plated contacts.
Cable length can be custom made as requirement.